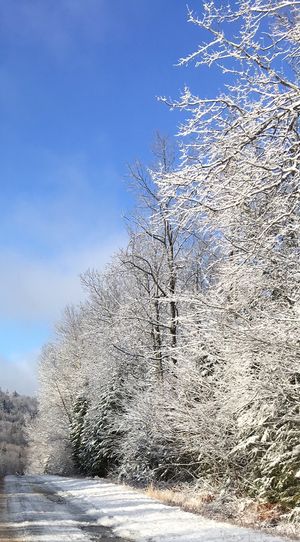 It was too pretty not to stop and take this photo as I drove from Miramichi NB to Montreal QC.
 
It's been a while since I've posted. I've completed my "Mostly East Coast" Tour since then, which had me away for all of November, meeting lots of new people with whom I got to share my stories and music. I feel like I should dedicate a full post to the tour itself, so maybe I'll leave it at that for today and just mention that I had a blast, and that I can't wait to go back again. I love the Maritimes.
So today I wanted to share what's become an annual tradition. Many of you will know this (and already have this), but there are some people that have only been introduced to me in the past year, so this is new for you. A number of years ago, before I was a performing singer-songwriter guy, I recorded an album of holiday songs in my friend's apartment over the course of a weekend. It was recorded as a gift, so I recycle it every year for anyone who wants it, or wants to share it with other people. It's called To: you. From: me. This Christmas. I'm not entirely sure how the punctuation is supposed to work on that, but on the original album cover art, it read okay.
My timing being wonderful as usual, I'm giving you this after you've likely been bombarded with Christmas songs everywhere you've been for the past month or so. You still have a few more days of it to endure, so maybe you can include mine in that time. And if you're entirely tired of Christmas songs, I also happen to have released a non-Christmas album a couple of months ago, and I'd love for you to listen to that one as well.
I'll do my best to write again before the holidays are over, as I owe you a tour update. In the meantime, please be safe and enjoy the holiday season, hopefully surrounded by loved ones and eating a lot of great food. Here's where you can find the album, available as a free download: http://preetam.bandcamp.com/album/to-you-from-me-this-christmas
Thanks for listening, and I'll talk to you soon.