Blog post below, but if you'd just like to watch the show, please click the photo (opens in a new window, Facebook account not required).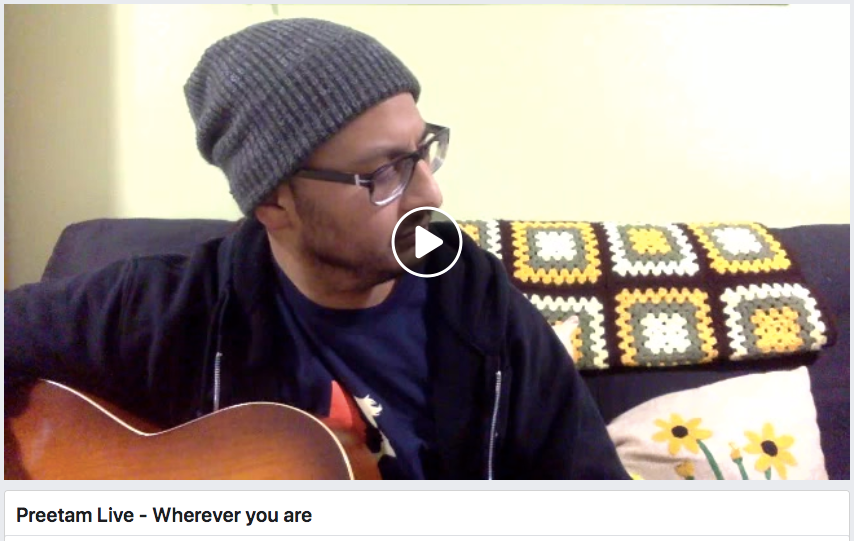 When the Sarnia Observer heard that I was hosting an online concert, they got in touch with me for a few words about how performers are dealing with the effects of COVID-19. I knew I had written way more than they wanted/needed from me, and they posted their story today, but I thought I'd share what I had sent to them, because writing it helped me navigate my own feelings a bit, which I'd had some trouble doing leading up to, during, and even after Saturday's show. Thank you to everyone who tuned in. It was really lovely to know you were there with me.
Lots of love to all of you.
Please stay safe, stay healthy, and stay inside.
Preetam
--
I certainly feel for my fellow artists who have had to cancel shows/tours on account of the COVID-19 pandemic, but I am happy that most of my Canadian artist friends have returned home safely and are self-isolating/quarantining themselves as necessary from travelling. I know some are really struggling with the uncertainty of the current state, as well as the future of our profession. There is no telling when (or if) touring life will be able to get back to normal. I was part of a videoconference songwriters' breakfast today (yes, we did that) where people were asking how far ahead others were scheduling/re-scheduling, and there weren't really any answers. Things are changing every day, and the most important thing right now is everyone's health. Listening to public health officials (especially my dear friend, fellow Sarnian, and current CTV and CBC resident Infectious Disease Specialist, Dr. Sumon Chakrabarti) is the most important thing we can do in order to even have a chance to get back to our normal. That goes for all of us - touring artists or not. 
I played an online show on Saturday. I had hesitated about doing it, but I'm glad I did. I keep saying that I don't know what my expectations were, but they weren't what happened. It was a pretty special evening. I had people tuning in that had never seen me perform before, from places as far as India, Nepal, and South Korea, taking in the same show at the same time as my upstairs neighbours. University friends showed up (and even caught up with each other) in the comments section, as did baseball teammates, former teachers, fellow musicians, family, friends, and fans, all while I sang alone in my house. It was such a strange feeling - singing to an empty room, but for an audience. But it felt like community. And it reminded me that we often turn to entertainment in times of uncertainty, and that I may not be a global superstar that the world is looking to, but I was the someone that those particular people turned to on Saturday evening, from the comfort of wherever they were, while I sat with my tea and cookies, singing to an empty room, trying to forget about the outside world for an hour and a half together. It was raw, flawed, honest, authentic, and special.