A wonderful reporter named Tara Jeffrey at The Sarnia Journal got in touch with me recently, asking me to think back many years to my high school days when I was among a group of students who started the Multicultural Awareness Committee, or MAC. The story was published this week accompanied by the photo below, which I thought would prove that I once had hair, except you can't really see it that well. Haha. Reading the story brought back some fond and some not-so fond memories of that time. Sometimes the world is ugly, and high school is a tough time for that ugliness to rear its head. On the other hand, we created something out of need that grew with love. What I sent to Tara didn't include anything that she could use in the story and/or didn't reach her in time, but I thought I'd share it here. It's not very polished, but sometimes I think it's important to let one's thoughts stream out on a page (or a screen). I thanked Tara for giving me the opportunity to reflect on memories I cherished, but never really thought so deeply about until now. It makes me happy to know that MAC might still exist, and I look forward to learning how they've grown over the years.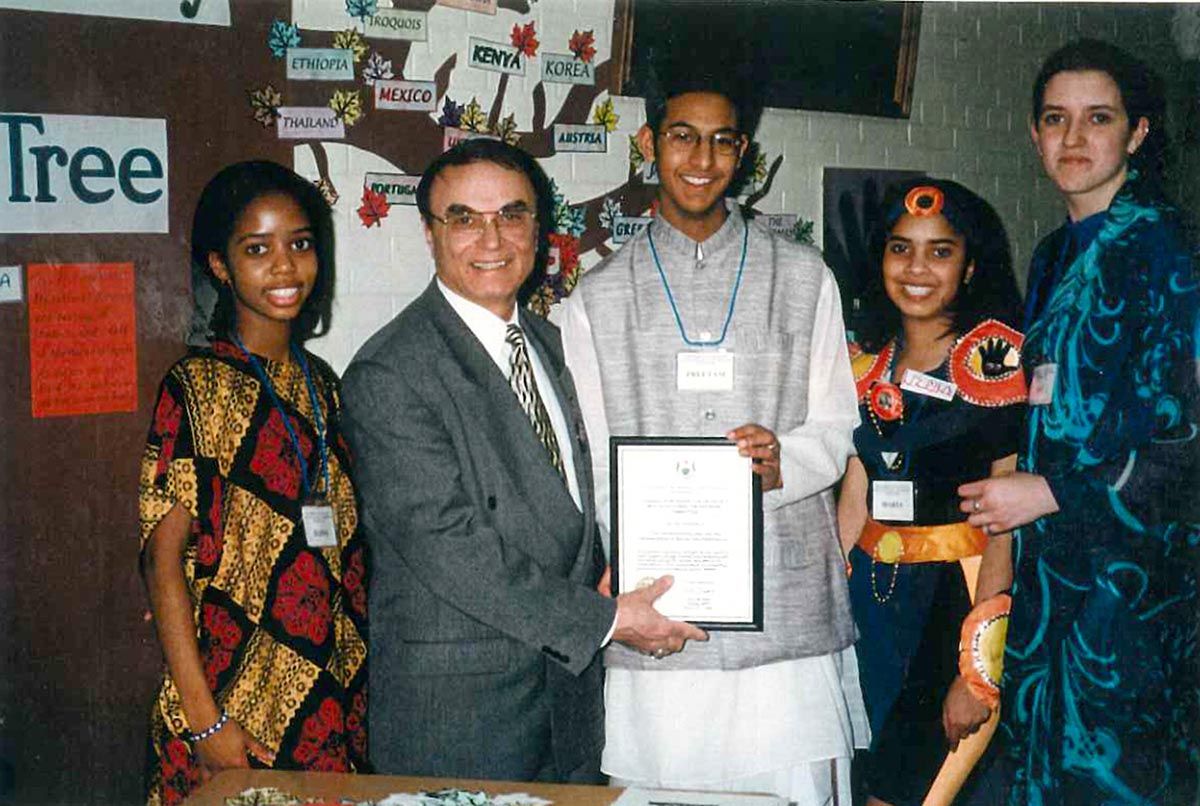 Reflecting back - and I remember feeling this way at the time but not knowing how to express it until much later - it was Kit that really inspired me. The rest of us were visible minorities, already aware of much of what came with that, living it every day. Kit taught me what allyship meant and how important it was - and remains - in both creating awareness and evoking any sort of change. Her convictions were strong and she was so tuned in to the world, well beyond what I would have expected from my peers at the time - frankly, well beyond what I expect from many of my peers now. It was incredibly refreshing when Kit came in, and almost legitimized to me what we were doing. A lot of people recognize injustice in the world and may not agree with it, but may not know what they can do about it, or don't believe they can do anything about it, and so they leave well enough alone, especially when it doesn't really affect them directly. Here was a 17- or 18-year-old who had certainly faced her share of judgement and social adversity, but not on account of her colour, yet a community/world where such ideologies existed was not okay with her, and she dared to do something about it. I look back at that now and think of how much Kit taught me without knowing it, and despite the drifting apart in the years that have passed, my love and respect for her has grown because I've recognized how much I continue to learn from who she already was then. 
I love my hometown and I celebrate and praise it everywhere I go, but I recognize that there are some things that will never change about it. Racism and other societal ugliness exists everywhere, and Sarnia-Lambton is no exception, but I think there's hope. Under the unbelievable and forward-thinking guidance of Ms. (Sheri) Henderson, we planted some seeds back then that I know sprouted, and whether on those stems or others these many years later, I've been happy to notice additional growth. A couple of years ago, I walked across and took a picture at Sarnia's rainbow crosswalk, and I've also been gifted a t-shirt from Sarnia's Women's March that I feel so honoured to wear. I know educational curricula have evolved over the years and taken into account some of those things we hoped it would back then, and others that were even unknown to us at the time. I think about our First Nations, Inuit and Métis brothers and sisters and their ancestors. The residential school system was something that still existed while we were in school, and I wish that were something we had known about and were able to bring to attention with MAC. 
On that note, I have so much hope and faith in younger generations today. They already know so much more than we did, and have the opportunity to dream in ways we didn't even know possible. I don't know if MAC still exists, but if it does, I hope it continues to evolve. Over the years, I hope MAC students took the lead in celebrating love being love. I hope they recognized a responsibility to the planet in making their decisions. I hope they celebrated and embraced new students that may have come from a war-torn part of the world a few years ago. I hope they spoke up and encouraged others to do the same when it was Them Too. I hope they have been able to teach their parents and grandparents about lives that need to matter so that they all really do. Finally, I hope one day they get to experience the feeling I have as I think back on my MAC time; we were just being ourselves, going through all of the fun and scary teenage things, believing that a better world was possible, and not realizing the inspiring mark we were leaving until we were asked to reflect on it.