I always say I should write here more, especially when I write here, if that makes any sense. Regardless, I'm writing from Halifax, Nova Scotia today, here for East Coast Music Week. I've settled in nicely with a cup of tea at my Airbnb, about to make dinner before I head out for the evening, so I thought this might be a nice time to give you a little update.
I have no idea where the first few months of 2018 have gone. It's suddenly May, and the two most recent little loves in my life just turned 4 months and 1 year old respectively a couple of weeks ago. The other almost 1-year-old is that Patience album I celebrated being finished with shows in Guelph and Toronto last May. The official release wasn't until September, but at the rate months seem to be passing, that'll be here in no time as well.
As the title of this post may indicate, I've been up to some stuff the last little while. Following my early February show for a near capacity River Run Centre audience in Guelph, I had the opportunity to speak/perform at a brain injury conference in Hamilton. I gave a similar talk/performance at Holland College in Charlottetown back in November, and I'm really enjoying these speaking gigs. I've now spoken to students from elementary up to post-secondary, and that brain injury conference found me in front of non-students for the first time as a speaker. For those that have been to my shows, you know I don't shy away from a story, and now I get to harness those into this new type of show, and I'd love to continue doing this.
Speaking of stories, I've tried to do a lot of reading lately. I picked up Cherie Dimaline's "The Marrow Thieves" from the library just before boarding the plane to Halifax yesterday, so that was my in-flight entertainment and before bed reading yesterday. I almost want to skip everything this week and just cozy up with that, but I'd probably be wise to participate in some things here.
Continuing on this book theme, last week I was on CBC's "The Next Chapter" with Shelagh Rogers, which was kind of a "pinch me" moment for me, as I'm a huge fan of hers and of the show. It was also pretty cool that one of my songs ("Long Way Down") was played on a CBC national program for the first time. Anyway, I recommended Richard Wagamese's "Ragged Company" as part of the show's "Bedside Books" segment, and you can listen to that by clicking on this selfie that I took with the book while sitting on the floor at the Guelph Public Library:
(Blog continues under photo)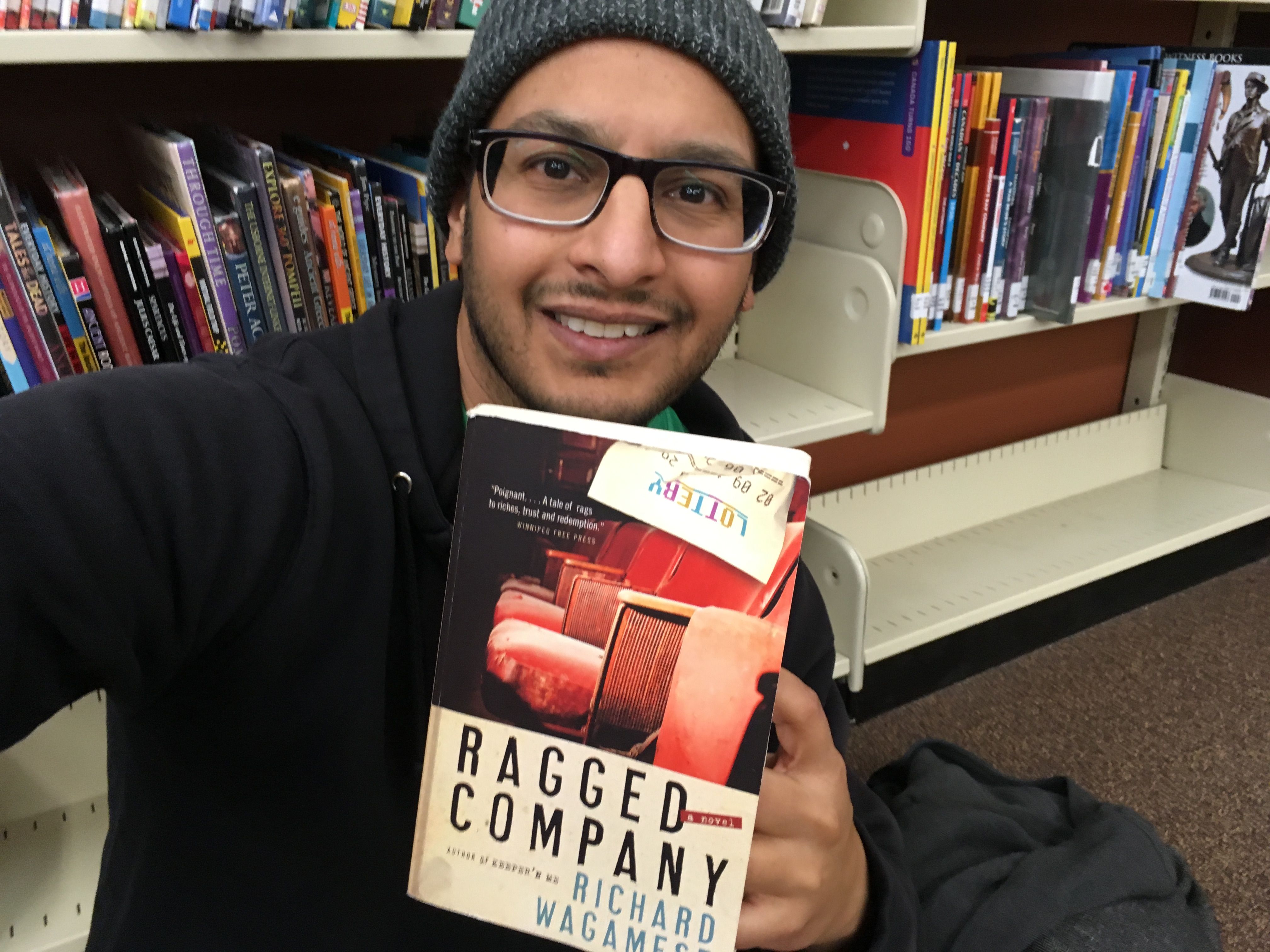 I think that photo is the type of thing that people post on Instagram...that people Instagram...can that be a verb? I'm not super savvy when it comes to that platform (nor any others, really), but I've been trying to use it a bit lately because that's what people do now, and I should try to keep up. So, if you'd like to follow me there, you can find me at www.instagram.com/LAMApreetam. Also, if you know if "Instagram" can be a verb, please let me know because now I'm going to keep thinking about it.
Okay, it's time to make dinner. I'm trying to stay healthy and well-nourished for an action-packed few weeks ahead. As mentioned, I'm in Halifax for East Coast Music Week with a show here (at the Carleton) next Monday opening for Steve Poltz. After that, I'm home for a few days before heading overseas for a week in the Netherlands, then back for a few days in Cobalt, Ontario, then back over to Ireland, and then on to France until the 10th of June. Maybe I'll see some of you along the way, which would be fantastic. If not, let's hope our paths cross another time sooner than later. Happy May!